The notion is an all-in-one productivity tool that allows you to do almost everything from creating to-do lists, writing articles, creating tables, spreadsheets, image galleries, and whatnot.It also has features like a collaboration which can let you work with your team hand to hand.
The notion is used for many reasons, out of those reasons, Todo is one of them. There are tons of advanced feature on Notion that allows you to create an interactive to-do list. Not only todolist, but it also lets you create a habit tracker, goals tracker, and advanced planners.
There are some cool templates that can allow you to create a full-featured Todo list. Some of them are
Best Notion Todo List Templates
1

Daily Journal: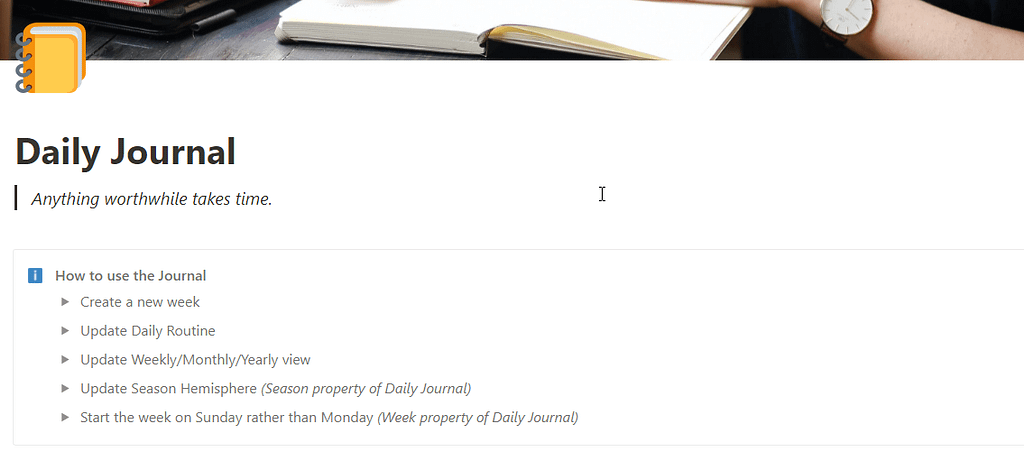 Daily Journal allows you to add daily journals. It has sections to add Daily Journal, Todo-List, Habit Tracker.It is one of the most used student's notion templates. It includes elements like Table, Calendar and Gallery.
2

Notionable Tasks Hub:
Notionable Tasks Hub provides you with a calendar where you can add tasks. You can add tasks like:
Urgent Tasks
Habits
Goals
Sprints
 Buckets
 Events
Backlog
Recurring Tasks
Achievements
It allows you to schedule tasks, build new habits, hit your goals using GTD + Eisenhower Matrix. It also allows you to add your daily, weekly and monthly tasks.
Notionable Tasks Hub has 4 main section
Task Inbox
Quick Links
Tasks
Spaces
3

Weekly Agenda:

The weekly Agenda template allows you to add all the tasks you want to accomplish over the next week. Adding task here lets you visualize the tasks which may clutter your mind if you don't write them down. Forgetting the tasks and rushing at the last minute is the habit of every people. So, it can be easy if you just write the tasks in Weekly Agenda. It lets you mark the task "complete", once the task is completed.
4

Habit Tracker: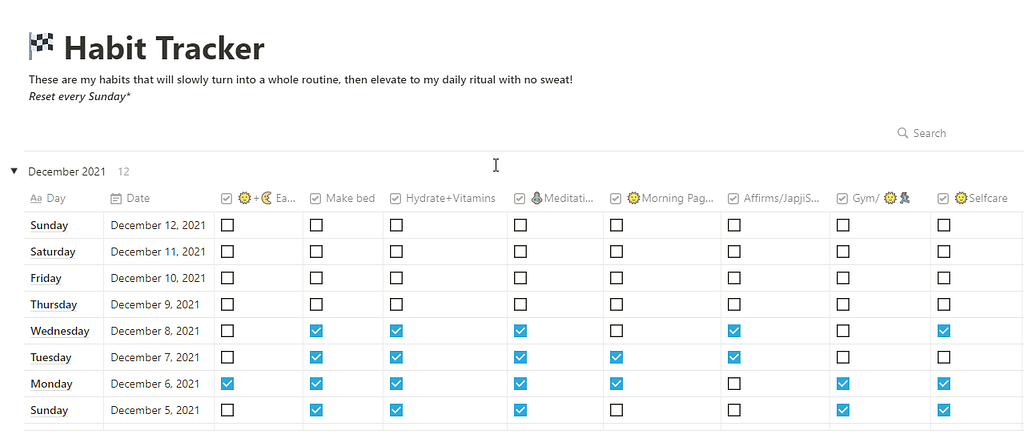 Creating a new habit during the new year and losing track of it is very easy. People create new set of habits on new years and forget about it after a couple of days. Habit Tracker got you covered there. You can track your habits on daily basis here. Not only track the habits, but you can also add notes, images into each day.
You can add as many habits as you want to keep track of. It is a very useful template for someone who is too conscious about their daily time management.It allows you to keep track of your  habits so you know in which direction your life is moving toward.
5

Finance and Budgeting: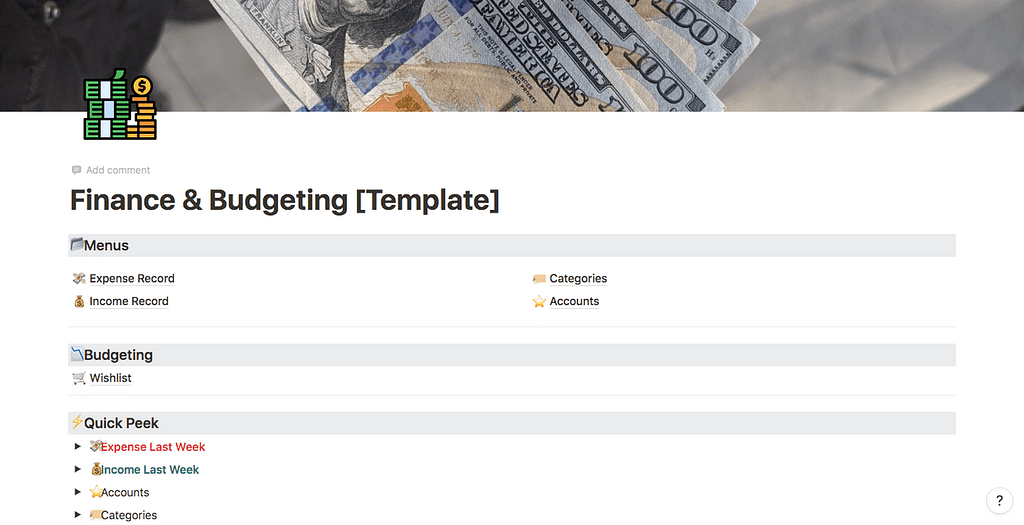 Overspending can occur if you are not aware of your budget. So, It is extremely necessary to keep track of your finance and budgets. For keeping track of those, Finance and Budgeting template can be of great use.
There are three main sections here:
Menu
Budgeting
Quick Peek
6

Eisenhower Matrix: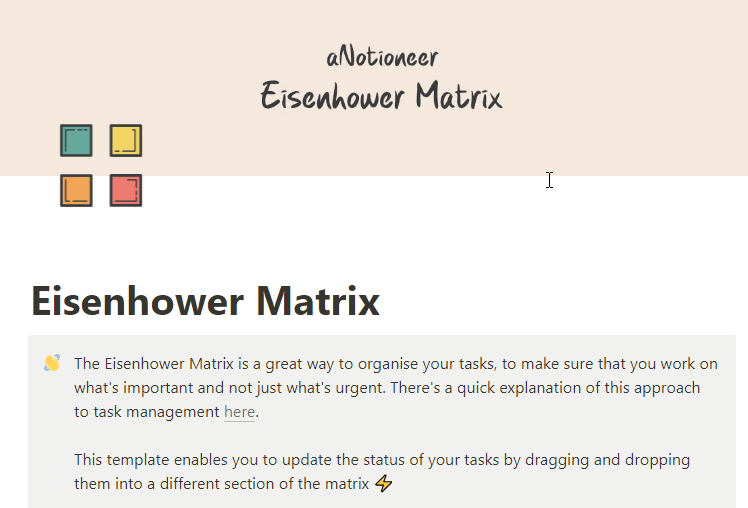 Eisenhower Matrix is the most ideal Todo list for me. Because not every task are equally important, or needs to be accomplished in the same urgency of time as others. What Eisenhower does is, it allows us to add Urgency, and Importance to tasks.
It allows us to add ["Urgent", "Not Urgent"] label as well as ["Important", "Not Important"] label, which allows us to mark the task off the list according to that priority. The most awesome thing is, this is completely FREE.
7

Mood Board: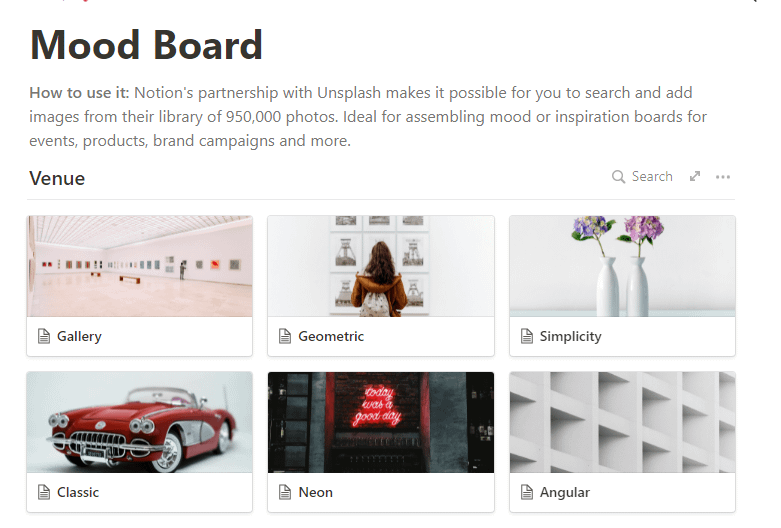 This template is just for adding images for inspiration, motivation according to your mood. You can directly add images from Unsplash into Notion which makes it easier to add images according to the mood.
Should You Use A Notion Todo List Template?
Yes, it is good if you use a template for creating Todo in Notion. Using a template can help you write advanced Todo lists which may require huge amount of time to code from scratch. If you want to use the Todo list in Notion, pick one among the above's templates.
FAQ
Is Notion Good For Todo List?
Yes, Notion is good for to-do lists because of features like Checklists, Reminders, etc.
How Do I Create A Todo List In Notion?
You don't need to create a to-do list from scratch. You can pick up one of many to-do list templates and start using it for filling your personal daily, weekly and monthly tasks.
What Are The Best Notion Templates?
This article lists some of the best notion templates for adding to-do lists.
How Do I Make Daily Checklist On Notion?
There is an element called "Todo List" in Notion. You can add that element on-page to create a checklist after that Click on that and you can add as many as you want your daily checklist will be created.
Notion Todo List Templates
Summary
Here you can check out demo and believe me i have used these notion templates and i have increased my productivity to 3 Times so,give it try and let me know.