Student life is very joyous because you get to learn new things constantly. But it is also frustrating sometimes because you have to manage all your timetables, schedules, exams, notebooks, preparations, and all.
These all things if scattered and left unmanaged can cause a tremendous loss due to low marking in exams. Hence all the things should be maintained and kept track of.
But thanks to Notion, an all-in-one tool, it lets you manage and keep track of every schedule and routine, assignments and notes, and much more.
The notion is a versatile workspace for taking notes using interactive elements. Apart from taking notes, the notion can be used for a wide variety of useful tasks like creating to-do lists, tables, spreadsheets of data. Notion allows you to collaborate with others too, which makes it easy for more than 1 person to work on the same project. If multiple students have to work on the same project then, the notion can be of great use for collaboration.
It is a must-have tool in a student's toolbox. It allows you to save countless notes and a vast amount of pieces of information. On top of that Notion is free as well.
The notion can be used for various purposes. Mainly, students can use notions in the following ways:
Taking Notes
Planning days
Scheduling Courses
Writing articles
Writing Journal
Writing academic papers
For Budget tracking
Saving academic resources
Sharing notes online and much more.
There are tons of templates on the notion for doing the aforementioned tasks. This article will describe the functionality of the top 8 productivity templates which every student needs if they want to accomplish their tasks faster and efficiently the template's quality depends upon the minimal as well as the font of the notion so, you can organize them and accomplish your task more quickly.
Here are the 8 most popular productivity templates for students, you might want to use.
Productivity Notion templates for students
1

Class Notes:

This template is for keeping all your notes from all your lectures in one spot. It is very easy to record everything that should be learned tagged by classes. It is automatically dated. You can also upload related study materials which makes it easy to learn without spending time on research.
2

Reading List: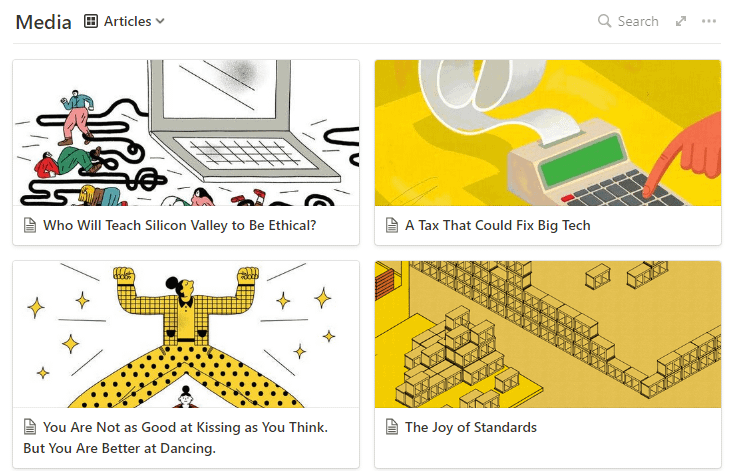 Being a student, you must constantly read different articles, books, research papers. Not only reading, but you may also want to listen to podcasts, watch videos, read Twitter threads, LinkedIn articles. Reading List template got you covered there. It allows you to save different items which you can rate (⭐⭐⭐⭐⭐).
3

AIC Synthetic Note: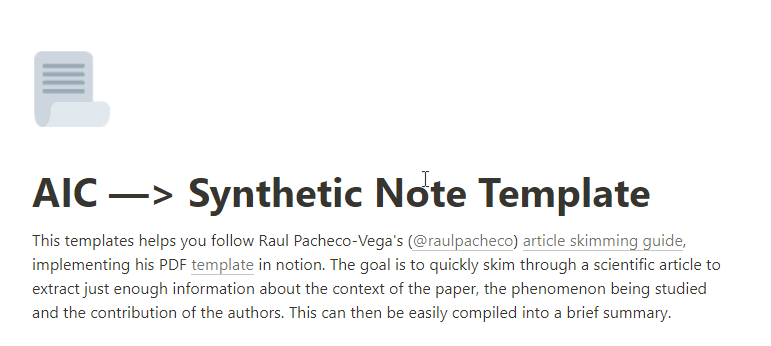 This template is used for gathering information through the scientific paper. It has many sections which can be filled by doing a deep analysis of the scientific paper. This can be used for research and other similar purposes. It has 3 sections (Abstract, Introduction, Conclusions) which in turn have questions inside them. The questions have 3 answer fields(Direct Quote, Page, In my own words). It is completely suitable for the analysis of academic research papers.
Read this too..
If you want to improve your productivity rate then you should definitely use
Notion todolist templates
which will help you to boost your task and never miss to do any task.
4

The Campus Life Organizer:
It's the one tool you need to manage your campus life. It contains different sections like:
Planner: For organizing different events
Weekly Time Blocking: For planning your day in advance and separating blocks for certain tasks
Networking – CRM: For saving contacts for different people you meet.
Goals: For recording different yearly goals and tracking them
Job Applications: For Keeping track of all the apprenticeships, internships, & jobs.
Habit Tracker: Tracking your daily habits, and improving the bad ones
Budget Tracker: For Tracking your income & expenses effectively
What to Bring for College: Items you need in college
These all varieties of the section make this template standalone and useful for college students. This template is created by Will Ma.
5

Resonance Calendar Notion: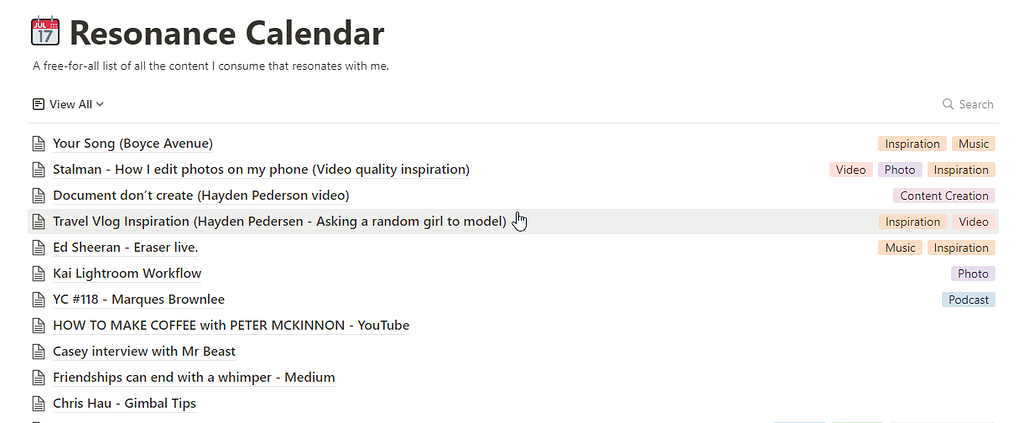 We are what we hear, see, and consume. A student must be conscious of the content s/he consumes. Resonance Calendar allows you to keep track of every content you consume or that resonates with you.  You can add the songs, podcasts, movies, and even tag them. It is awesome.
6

Kanban Board:
A kanban board is a visualizer tool that may be physical or digital that mainly aims to provide management solutions at the personal and organizational levels. There is a kanban board in notion too. It allows keeping track of the tasks inside the project. It can be very useful for students to visualize the complete project and also it will be very useful for collaboration with other peers.
7

Course Schedule: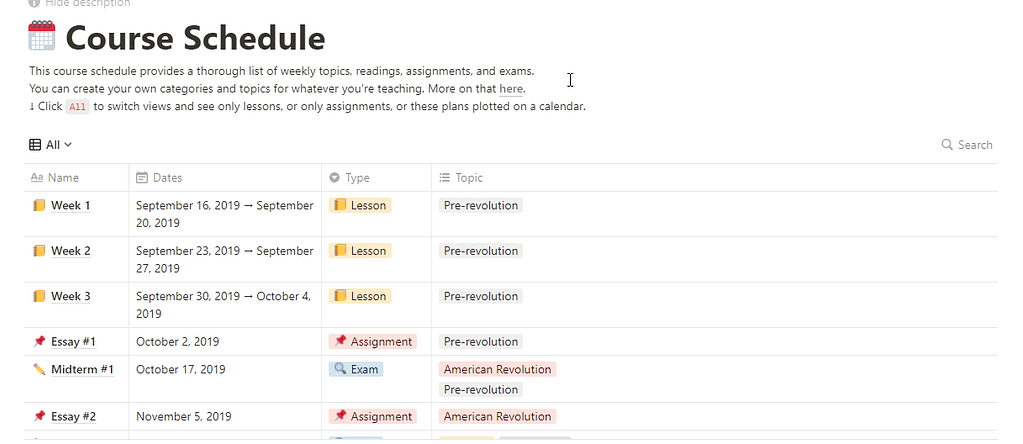 Course scheduling is very important. It is necessary to plan and dedicate time for a certain course for its fast completion and efficient tracking. It not only helps to remind of us courses ahead but also keeps track of courses we accomplished earlier.
Notion's Course Schedule provides a comprehensive list of weekly topics assignments and exams. It also allows the creation of custom categories and topics.
8

Task List:

Managing tasks of personal and professional life can be hectic. It is very difficult to keep track of all the responsibilities of the day. Not being able to keep track of the tasks can create stress and worries which may lead to anxiety. 
Notion provides simple yet useful templates to manage all the tasks across personal and professional life.  You can label the task as Todo, In Progress & Done for easy classification of the task.
9

The ultimate Semester Organizer (Bonus):

This is a notion template for organizing the semester. It has options to add to-do's, quotes, Spotify playlist, weather, and so on. These were notion templates for students. They all are free, and you can easily duplicate them and use them for your own purposes.
Note: These templates can be created using notion as well. If you don't want to buy templates, you can learn to create your own template. It may take some time to learn at first, but it will save you money.
Checkout : How to Add Weather Widget to Notion?
Frequently Asked Questions:
Where can I find more Notion Templates?
Templates are just notion pages. They are a combination of notion elements. You can create your own notion template as well. You don't need coding skills to create notion templates, you only need to know to work with notions.
The notion has a plethora of templates pre-built for use. Templates are categorized into different sections. You can search for templates and filter them according to the categories. Not only this, there are many notion creators online who create online templates which are free as well as paid.
Why should I use Notion Templates for Students?
As a student, you have to do so many things. Keeping track of these things can be hectic and energy-consuming. So, instead of using different apps for tracking different items, you can use a single platform i.e; Notion to keep track of everything. Using Notion templates made for students, you can organize all the notes, assignments, todos, papers in one single place which makes it easy to access them later.
On top of that, using prebuilt templates for students will save you so much time for focusing on other important tasks. The notion is a very versatile tool, learning to use it has unfair advantages.
There is no compulsion for using the prebuilt templates. You can also create your own template according to your own requirements. The template I just listed above are some created by Notion creators, and others by random creators on the internet. Because the Notion is free, it is very suitable for students.
How can I use Notion effectively as a Student?
The notion, for a student, is a very useful tool. You can
create notes
create todos
curate assignments
write academic papers
save learning materials
organize lessons & learning materials, etc.
and much more. There are tons of prebuilt templates for all the tasks a student needs to accomplish. These templates I mentioned are only 1-2% of templates. There are Notion creators who create stunning and useful templates for Notion. You can also buy premium templates if you want. If you are interested, you can create your own templates from scratch for your personal use too.
Conclusion
The notion is an all-in-one collaboration and project management tool. It can be used by any people for personal and professional use. The wide variety of templates on notion helps a person to do a wide range of tasks on it.
The notion can be used as a productivity tool for students if used with the right templates. Works like notetaking, goals tracking, keeping academic resources, writing academic papers, budget tracking, course planning, assignments can be done with the help of notion.
Summary
Here we have compiled templates that are essential if you are a college or school student as they help us to organize our daily activities so, you can check out free 8+ notion templates for students with bonus template.